Not My Kid!
November 28, 2022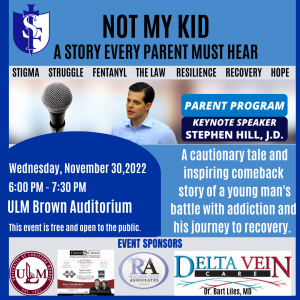 This Wednesday, St. Frederick High School is hosting a special event at ULM Brown Auditorium featuring keynote speaker Stephen Hill, a renowned national speaker on substance use prevention and mental health awareness, with a truly inspiring story everyone must hear.
Stephen Hill will share his cautionary tale of addiction and his inspiring comeback story of a young man's battle with addiction and his journey to recovery.
This event is free and open to the public.