SFHS Kiddie Clinic
September 22, 2022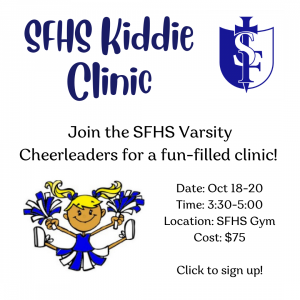 Join the SFHS Varsity Cheerleaders for a fun-filled clinic!
Time: October 18th-20th from 3:30 to 5:00 PM
Location: SFHS Gym
Price: $75
Participants are invited to cheer with the cheerleaders during the 2nd Quarter of the Cedar Creek game on Thursday, November 3rd. Our themes for the week are Blue & White (Tuesday), Princess (Wednesday), and Pink Out (Thursday). Clinic showcase is on Thursday the 20th at 5:00.
Game t-shirts and snacks are included. Please bring a refillable water bottle.
CLICK HERE to sign up!